Feeding Throught the Life Cycle Part 2
---
Feeding through the life cycle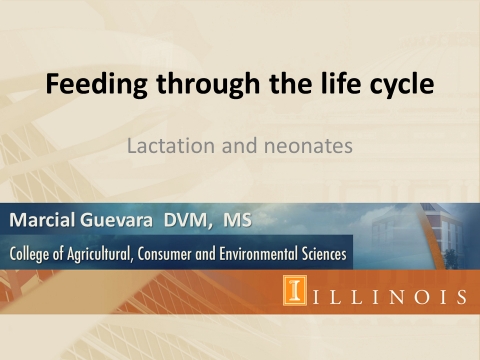 Lecture Notes
Now continuing with the other life stages, let's move on lactation and neonates.
---
Feeding during lactation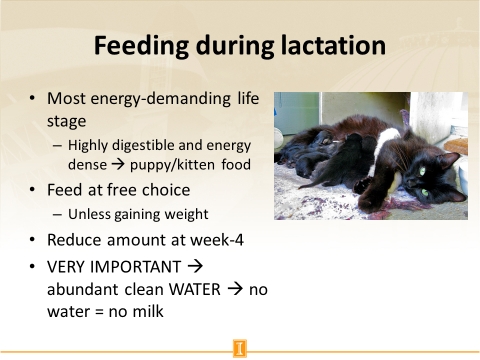 Lecture Notes
As it was previously said, lactation is the most energy-demanding stage for dogs and cats. They will require three or four times the amount of energy that they would usually require. However, they cannot eat easily three or four times the amount of food. Therefore, in this stage is recommended to feed a highly digestible and energy dense food such as puppy or kitten food to the moms. This is the only stage when it is recommended to feed at free choice or ad libitum, unless the bitch or the queen is gaining weight. After the fourth week, milk production will decrease because puppies and kittens will have started eating some other foods; therefore, we have to restrict the amount to be fed to the mom, unless she has lost a lot of weight. And the most important thing in this stage is to provide abundant clean and fresh water. Remember that between 80-90% of the milk is water, so if the mom does not drink enough water, she won't produce enough milk for the puppies and kittens.
---
Neonates
Lecture Notes
Now, what about the babies? Well, it may sound obvious but the ideal food for them is their mom's milk. Therefore, it should be avoided to bottle feed puppies and kittens unless it is really necessary, due to sickness of the mom or excessive number of animals in the litter. At three weeks of age semisolid food can be introduced to puppies and kittens. This can be made of smashed dry puppy food mixed with water, not with milk. At five or six weeks of age the litter can be weaned from a nutritional point of view, even though the separation from the mom and littermates should be done later for behavioral reasons.
---
Orphans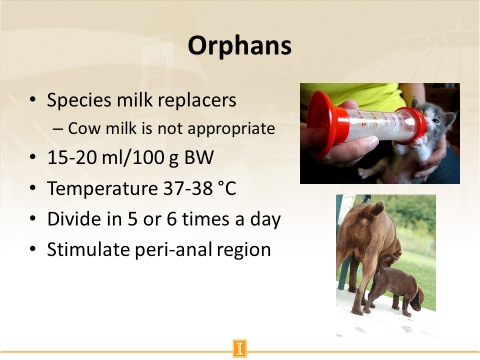 Lecture Notes
But what happens when the mom die or she's just sick and cannot feed the neonates? The ideal situation would be to find a substitute mother to nurse them, but this is very unlikely in most cases. The next best option is to use the appropriate milk replacer for the species. It's important to highlight that cow milk is for the calf, not for puppies and kittens, and the milk compositions is very different as we'll see in a few slides. Puppies and kittens don't have a very well developed satiety system; therefore, we shouldn't feed them until they cannot drink more. The recommended amount is between 15-20 ml per 100 gram of body weight per day. It means that a puppy that weighs 200 grams will need 30-40 ml of milk replacer per day. The milk replacer must be provided warm, between 37-38 ºC and the total amount that was calculated must be divided in five or six times a day. That means that we should feed them roughly every four hours. After feeding them, we have to stimulate the perianal region with a damp towel, just like the mom would do it with the tongue. This is done to stimulate defecation and urination to avoid constipation problem.
---
Animals should eat appropriate food for their species
Lecture Notes
It is recommended not to use cow milk to feed orphan puppies or kittens. We have to remember that each animal should eat the appropriate food for their species, and cow milk was not made for puppies and kittens.
---
Milk in different species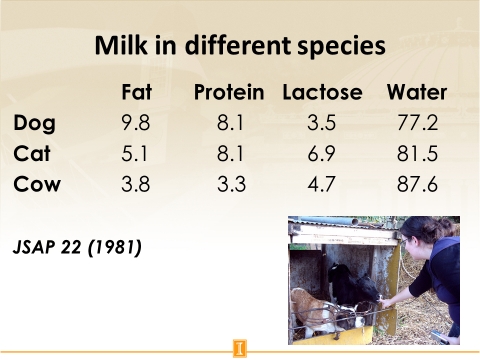 Lecture Notes
In this table we can see the differences in milk composition of dogs, cats, and cows. It is important to highlight a couple of points. The water content of cow's milk is higher than dog's and cat's. Therefore, we can say it is more diluted and with less nutrient content in general. We can see that in the fat and protein concentrations. In both cases cow's milk has a lot less, almost a third, of the concentration of those nutrients in dog's and cat's milk. On the other hand lactose is higher in cow's milk when compared to dog's milk. If we feed cow's milk to a puppy, he will not be able to digest all that lactose and it will be fermented by the intestinal microbiota. This excessive fermentation can cause diarrhea and bloating, which can lead to a very severe condition that can even end in the death.