KIN 249: Critical and Critital Feminist Theories
---
Lecture 3.3: Critical and Critical Feminist Theories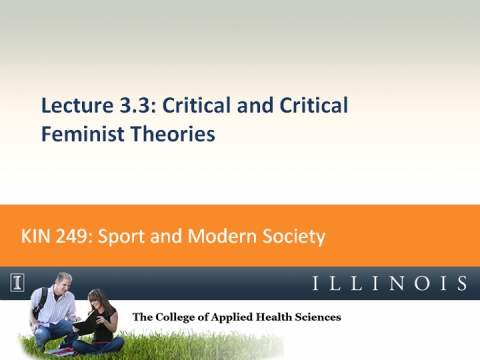 Lecture Notes
Welcome back! Today we're going to take a look at two social-action theories: critical theory and critical feminist theory.
---
Objectives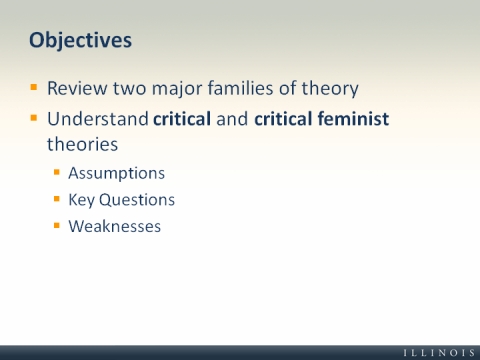 Lecture Notes
Our objectives include: Review two major families of theory, Understand critical and critical feminist theories, Assumptions, Key Questions, and Weaknesses
---
Two Families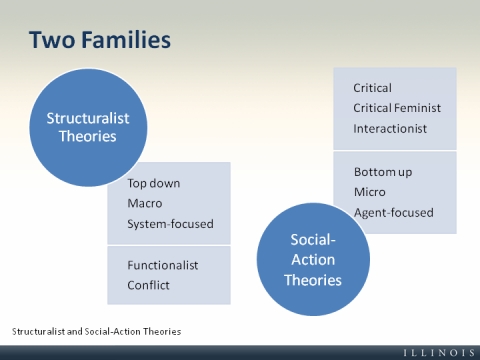 Lecture Notes
You'll remember from Lecture 3.2 that the sociological theories we are discussing this week can be broken into two families: structuralist theories and social action theories. Social action theories are very different from the two structuralist theories we examined last time. Social action theories look at society from a micro-perspective: in other words, they focus on the individuals within a society. These social action theories tend to take a bottom-up approach: they assume that a society's norms and rules are dynamic and are formed by the interactions that happen between people. Today, we'll focus on the two social action theories: critical and critical feminist theories.
---
Critical Theories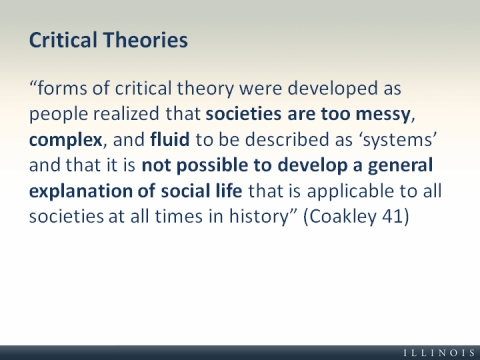 Lecture Notes
Critical theories developed as a response to the structuralist theories we discussed in the last lecture. Instead of seeing society as a system that seeks equilibrium, critical theories see society as a complex set of negotiations that are always changing. Critical theories look for the arguments, the tensions and the power dynamics that divide society as much as the norms, values, and ideologies that synthesize societies. If functionalist and conflict theories argue that "sports are a reflection of society" (Coakley 41); critical theories argue that "societies are too messy, complex, and fluid to be described as 'systems' and that it is not possible to develop a general explanation of social life that is applicable to all societies at all times in history" (Coakley 41) In our examination of sport history thus far, we have been using a critical perspective: we assume that sport is not a static or solid thing. Instead, sport changes over time and varies by place and culture.
---
Critical Theories: Diagram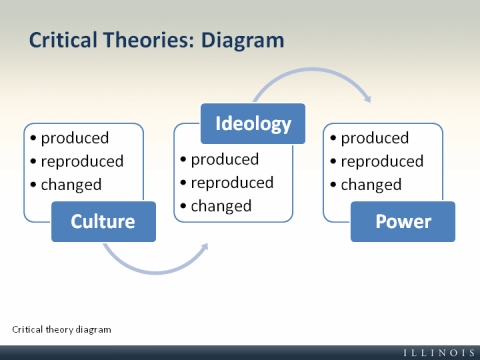 Lecture Notes
In the last lecture, I gave you a diagram to help you visualize the functionalist and conflict theories. Here, you can see my best representation of critical theories. Critical theories are interested in the relationships between culture, ideology, and power: how they are produced, reproduced, and changed. For example, critical theories would be interested in the cultural shift from agricultural labor to factory labor that we discussed over the past two weeks. A critical theorist might ask how ideologies and power relations were affected by the change from farms to factories. You might respond by discussing the rise of team-work, capitalism, and consumerism as ideologies. You might discuss the shifting power relations between laborers and entrepreneurs. Culture, ideology and power are constantly changing and affecting each other. How they line up at any given moment influences the ways that people form their identities, interact with one another, transform their cultures, and make meaning of the world around them.
---
Critical Theories: Integrated Diagrams
Lecture Notes
Given how integrated these three concepts are, I might have drawn the diagram like this . . . .
---
Critical Theories: More Integrated Diagrams
Lecture Notes
Or like this. Critical theories are very sensitive to the idea that culture, ideology and power are always in flux. Because of this, critical theories do not begin with the assumption that society is a large, fixed system of integrated parts working toward equilibrium. Critical theories assume there is disagreement, opposition, struggles for power and different ideas about what's best for the society.
---
Critical Theories: GOAL!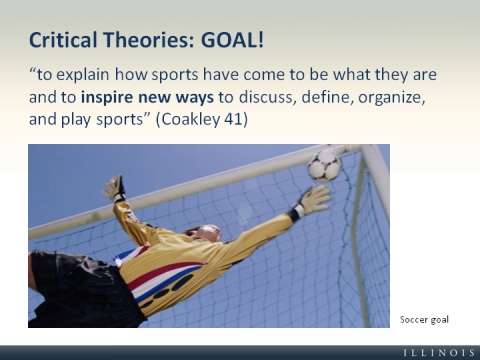 Lecture Notes
In short, the goal of many critical theories is "to explain how sports have come to be what they are and to inspire new ways to discuss, define, organize, and play sports" (Coakley 41)
---
Multiple Perspectives
Lecture Notes
You are very unlikely to find a single voice when you listen to critical theories. Their goal is to acknowledge and represent multiple perspectives, NOT just those perspectives of the powerful or the elite.
---
Key Questions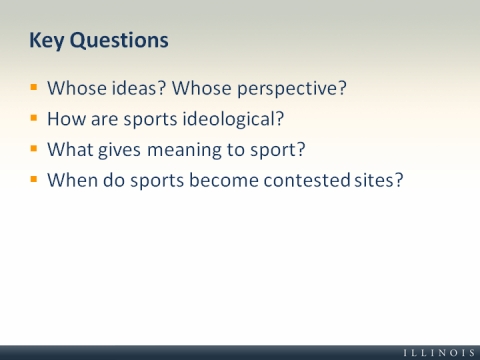 Lecture Notes
With this in mind, it should be no surprise that these are the key questions that critical theories help us to ask: Whose ideas? Whose perspective? How are sports ideological? What gives meaning to sport? When do sports become contested sites?
---
Weaknesses of Critical
Lecture Notes
Many contemporary theories about sport and modern society use critical theories. But this does not mean that critical theories don't have any weaknesses. There are a few you should know about and recognize: For some, critical theories are too undefined. If you value all perspectives and you define society and sport as constantly changing, where is your solid ground? The answer may be that critical theories are more concerned with a process of learning and uncovering and less concerned with creating a social system that maintains its equilibrium. The second, and related weakness has to do with the ways that critical theories often value discord, argument, and the violation of norms. It's important to recognize, for example, that not all norms are bad, that not everything is an argument. That what Coakley calls "prevailing norms" are not always negative. To take an obvious example, some norms, like not wearing summer clothes in the middle of winter, are pretty good. They make sense. Rebelling against such a norm is not necessarily advantageous. Finally, critical theories are somewhat difficult to apply. This may be because they are more focused on the process of cultural and ideological production rather than on finding ways to maintain the status quo.
---
Critical Feminist Theories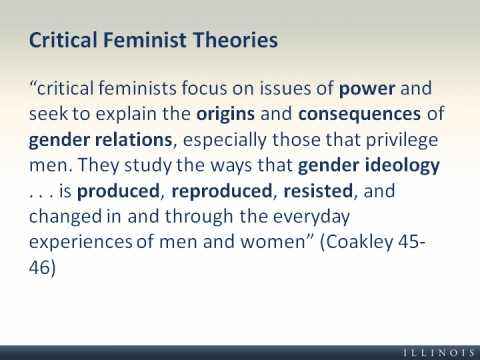 Lecture Notes
I will say less about critical feminist theories here because they emerge from and alongside critical theories. In short, critical feminist theory is a form of critical theory. We will look briefly at these theories as a way to better understand critical theories in general. Coakley explains that "critical feminists focus on issues of power and seek to explain the origins and consequences of gender relations, especially those that privilege men. They study the ways that gender ideology . . . is produced, reproduced, resisted, and changed in and through the everyday experiences of men and women" (Coakley 45-46)
---
Critical Feminist Theories, cont.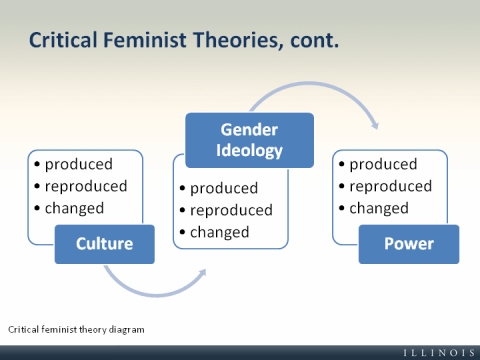 Lecture Notes
If we were to encapsulate this in diagram form, we could use our same diagram. The only difference would be that ideology is replaced by the more specific "gender" ideology. The basic approach is the same, but critical feminist theories pay particular attention to the ways that gender works as an ideology. Critical feminist theories might focus on the ways that sports encourage masculine characteristics, or the ways that female athletes are sexualized.
---
Critical Feminist Theories: GOAL!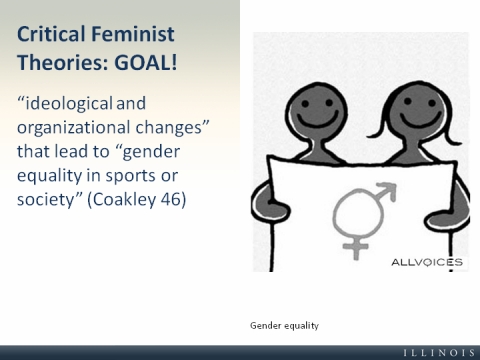 Lecture Notes
The goal of most critical feminist theories is to create "ideological and organizational changes" that lead to "gender equality in sports or society" (Coakley 46) Here, the idea of application is more explicit and clear.
---
Weaknesses of Critical Feminist
Lecture Notes
However, as with critical theories, critical feminist theories are hard to pin down, they often overstate the value and importance of violating norms, and may be difficult to apply given the current cultural ideologies and power relations of modern American society. In addition, some critical feminist theory does not acknowledge that there are important linkages between gender, race, disability, and class. For example, if a critical feminist theorists argues that all women are affected by images of women in the media, she would be ignoring that different groups of women might feel very differently about these representations depending on their race, class, or disability. We should remember that "women" is not a good category - neither is "men" for that matter - because within that category are many other differences that should be acknowledged.
---
Application?!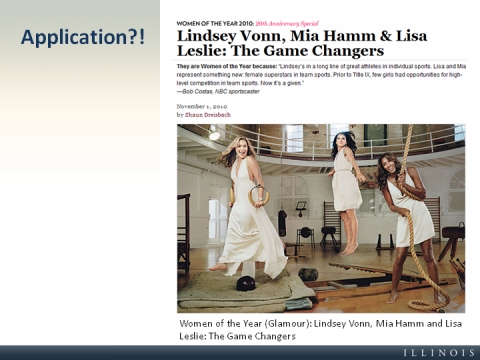 Lecture Notes
In our next and final lecture of the week, we will discuss interactionist theory and take a look at one possible application of our sociological theories. As a teaser: have a look at this ad from Glamour. What would each of the sociological theories think?
---
Sources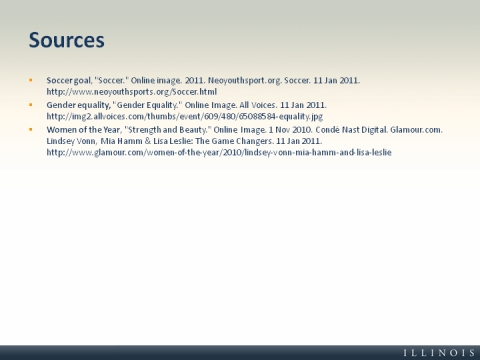 Lecture Notes